Indian agri-machinery maker plans Africa expansion
Posted on : Tuesday , 22nd September 2015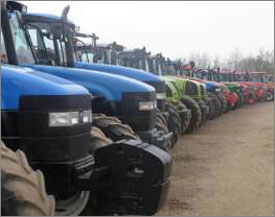 India-based Indo Farm Equipment Limited (Indo Farm) is planning to start manufacturing operations in various regions of Africa
Indo Farm manufactures tractors, harvesters, diesel generators, engines, small cranes, and other agricultural implements. Its products are exported to more than 40 countries in Asia, Africa and Latin America. Since Africa is a high-growth market for agriculture, the company is focusing on the continent in a big way.
To ensure the timely delivery of its products, along with creating jobs in local economies, the company is planning to set up three assembly lines for its products in various parts of Africa, in the first phase of its Africa expansion. Indo Farm says it will set up tractor assembly lines in the continent, one each in the northern, eastern and western regions, by the middle of 2016. The exact location has not yet been decided but the company is looking at various local business partners for the venture.
Along with setting up manufacturing lines, the company is also looking to strengthen its distributor networking channel in the continent. In a statement, the company said, "We are looking for exclusive business channel partner in various African countries." Having a good network of distributors will allow the company to reduce the time between receiving orders and fulfilling them.
Following the first phase of the Africa expansion, Indo Farm wants to set up another assembly line in Southeast Asia. The total planned expenditure on these assembly lines is expected to be about US$100mn.
Source : www.africanfarming.net